Cross-border retailers get help penetrating either side of the U.S. -Mexican divide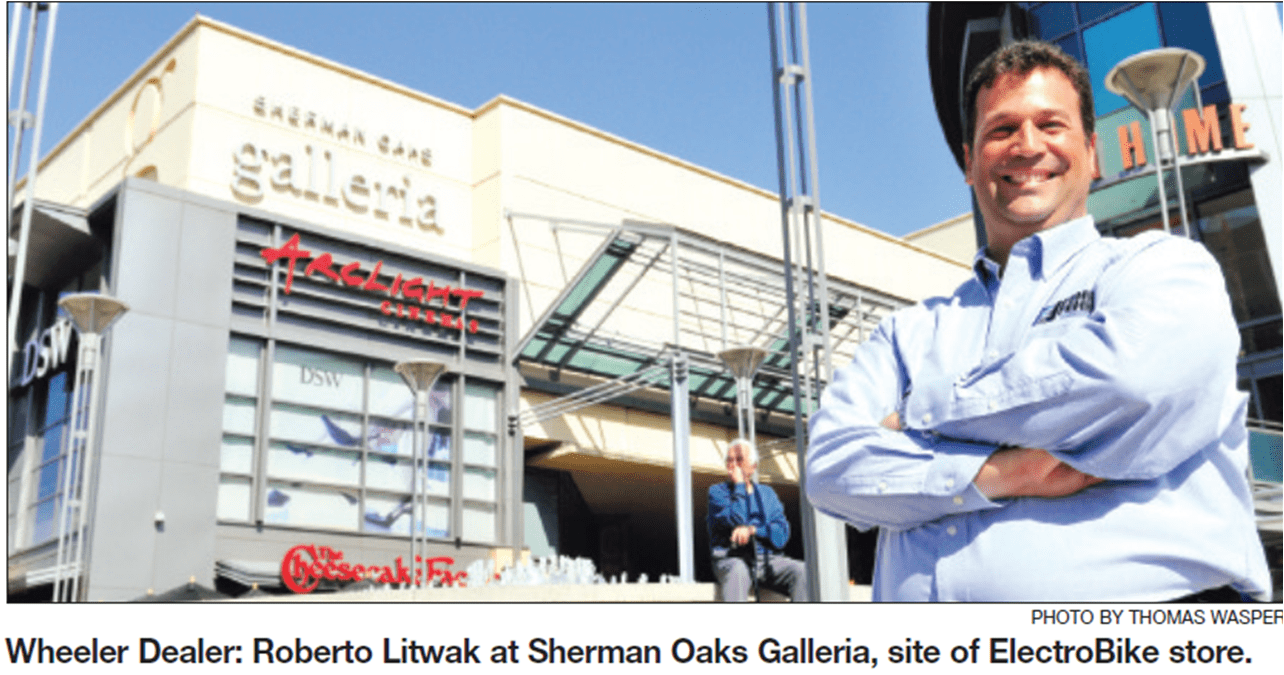 Cross-border retail between the United States and Mexico is just that: It involves both Latino companies heading north, and U.S. companies going south.
 And often companies need some help to do that, turning to consultants such as Feher & Feher Consulting, a cross-border retail firm in Mexico City, with U.S. headquarters in Sherman Oaks. It assists Latin American businesses entering the states – and vice versa.
"You have to be local to be effective, otherwise you'll get lost in the mumbo-jumbo of doing business," said Roberto Litwak, the firm's chief operating officer. "That's kind of the added value that we offer. We help businesses develop a strategic plan so they don't have to navigate on their own."
 Most recently, Litwak helped a high-end electric cycling retailer ElectroBike to open at the Sherman Oaks Galleria. It's the second San Fernando Valley store for the Mexico City-based retailer. With more than 30 franchises in Mexico, the seller of battery-operated bicycles is a familiar brand south of the border, but it's now trying to move into the states.
Litwak currently has three other Mexicanclients working to expand into the states, two of which have already been placed. Prendamex, a chain of financial service in Huntington Park and Lancaster. ElectroBike – which established its U.S. headquarters in Encino – opened its first location in Venice last August, and has sealed the deal to open a third store in Pasadena this summer.
"Roberto was from Mexico City, so the owner of our company knew him," said Craig Anderson, who heads up ElectroBike's U.S. operations. "When Roberto moved up here it was kind of natural to partner with him. He's been a wonderful resource for us."
 Though Litwak was born in Minnesota, he moved to Mexico City along with his family when he was 5 and lived there for 20 years before getting his MBA in international business and management technology at Johns Hopkins University. Litwak joined Feher & Feher Consulting, a 13-year-old company founded by Ferenz Feher, in 2007 and is now a partner. The company currently has offices in Guatemala, in addition to Los Angeles and Mexico City.
"Business owners are accustomed to doing business a certain way in their country of origin, then they come here and it really doesn't match with their expectations or with what they're accustomed to," Litwak said. "We're here so we can help them with all that."
Sophisticated sellers
Prendamex was one of Litwak's first clients. The financial services franchise founded in 1996 has nearly 700 locations in Mexico, and is one of the country's household names. The company is a pawnbroker and offers check-cashing, money wiring and lending alternatives to those who might not have access to regular banks.
"There is certainly a strong connection between the Prendamex brand bridging over both countries," Litwak said. "In terms of Prendamex you know for sure it's more toward the Hispanic community. L.A. is almost like coming to a known market in a way, and that's what's attractive about it. "In reality (the Mexican retailers) are very sophisticated people, and they understand exactly what they're doing. They just need a helping hand to guide them," Litwak said. In addition to Litwak's three Mexican clients, he also works with U.S. companies looking to move south. He aims to be a onestop shop, assisting with securing legal representation, finding suitable locations, attaining necessary permits, establishing franchise models and even hiring employees.
Of the nine U.S.-based businesses that Litwak has helped expand into Mexico, most have been food and beverage franchises. "There's a huge market in Mexico and there is a great interest in U.S. brands. You know, anything that comes from the U.S. is generally very well received," he said.
The Counter, an upscale burger chain headquartered in Culver City, closed a deal earlier this year for a master franchiser to open a location in Mexico City this summer. Several storefront locations are being evaluated.
Fatburger, a hamburger chain based in Beverly Hills and Menchie's, an Encino-based frozen yogurt shop, are working with Litwak to open franchises in Mexico City this year as well, though no deals have been announced. "Mexico City is a great market and a city of almost 22 million people. The sheer number of people and potential consumers is very interesting," Litwak said. "They have streets that can be compared to Rodeo Drive and then you have very marginable areas, a very wide spectrum. How I explain it to my clients is that it's not harder or easier, it's just different."
Fuente: Feher & Feher